October 12th, 2013
A large part of playing banjo in a Bluegrass band is being able to play interesting accompaniment or better know in the banjo world as playing backup.
I'm currently working on my next project which will be a multimedia package that will cover the topic of playing backup in a Bluegrass band extensively. It will also focus on practical music theory and improvisation, to equip you with the tools to create your own backup off the top of your head, as well as branch out from the Bluegrass idiom if so desired.
Backup can be memorized, just like lead, though it's much easier to improvise once you achieve a certain level of proficiency on the banjo along with some fundamental, theoretical know-how.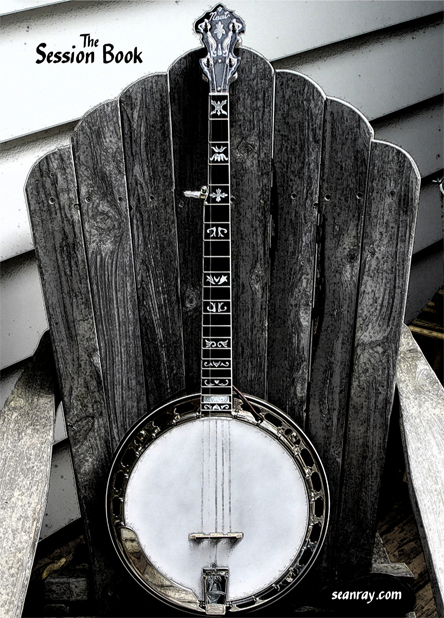 In an effort to get you on your way to playing better backup I'm offering free backup tab for all 26 songs inside The Session Book. These tabs will get you started with the basics of vamping, rolling and feature numerous classic Scruggs licks to keep things interesting.
As with all of my arrangements, here on seanray.com, these are not watered down or simplified. That's not to say they aren't for beginners though they are written in such a way as to assume you have a basic familiarity with Bluegrass banjo.
To get the most out of these tabs I highly recommend downloading TefView. TefView will allow you to play back the TablEdit (.tef) files so you'll hear and see the tab. I wrote these TablEdit files as loops so you can practice them over and over again and adjust the tempo to your liking. High quality PDF files are also included for the low, low price of $0.00.
This is the perfect companion for The Session Book and my way of giving back to the banjo community and saying thanks for the continuing support.
Download The Session Book Backup Tabs (8MB zip file)
Songs included: Blackjack, Bugle Call Rag, Clinch Mountain Backstep, Cripple Creek, Cumberland Gap, Dear Old Dixie, Earl's Breakdown, Farewell Blues, Fireball Mail, Five Speed, Flint Hill Special, Foggy Mountain Breakdown, Foggy Mountain Chimes, Foggy Mountain Special, Ground Speed, Home Sweet Home, John Hardy, John Henry, Lonesome Road Blues, Pike County Breakdown, Randy Lynn Rag, Reuben, Sally Ann, Sally Goodin, Shuckin' The Corn, Train 45.