The Kickoff eBook – 101 Bluegrass Banjo Intros
March 1st, 2014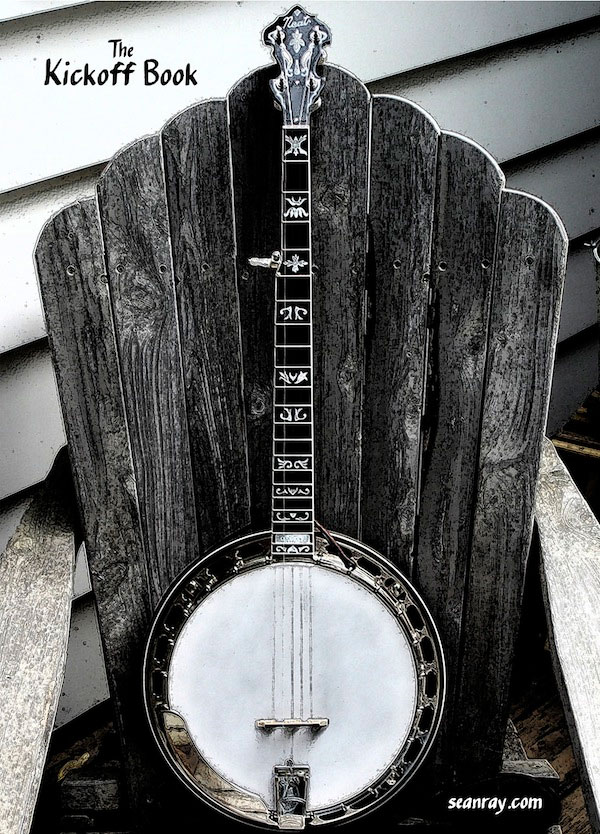 A large part of playing Bluegrass banjo in a band or jam setting, is being able to kickoff songs.
A successful kickoff, or intro, requires a solid cue to the rest of the band in order to get everybody playing at the desired tempo and feel. In other words, you're setting the mood for the song and "getting the ball rolling" so to speak.
The Kickoff eBook is a must own reference book for aspiring Bluegrass banjo players. It features 101 Scruggs-style intros to the genres most popular songs by Bill Monroe, Flatt & Scruggs, Jimmy Martin, The Stanley Brothers, The Osborne Brothers and many more.
The arrangements are based off classic recordings and can be played as is or used as a starting point to create your own arrangements. Most of them also work as solos in the event another instrument kicks off the song. These are not watered down or simplified arrangements. This eBook is packed full of licks in the style of Earl Scruggs, J.D. Crowe, Ralph Stanley, Sonny Osborne, Charlie Cushman, etc.
The song keys suggested here are what you might typically find others playing them in, but changing keys, in most cases will just require repositioning your capo. All tabs include chord charts as well.
Working through this eBook, along with listening to classic recordings, will help build your repertoire and give you the confidence to kickoff songs and lay a solid foundation for the rest of the band. In addition, knowing kickoffs will drastically improve your ability to improvise solos since you will have a solid grasp of the melody.
All 101 songs in the eBook have an accompanying, note for note, video posted here.
Package includes eBook in PDF format (111 pages) as well as all 101 songs in TablEdit format. Instantly delivered to your email upon order completion.
For sample pages and complete song index see below.
The Kickoff eBook
(Digital Download – PDF & TablEdit format)
Price: $40
In Stock
Sample Pages
Molly and Tenbrooks
On and On
Handsome Molly
Song Index
All the Good Times are Past and Gone
Ballad of Jed Clampett
Banks of the Ohio
Big Spike Hammer
Blue Ridge Cabin Home
Blue Ridge Mountain Blues
Careless Love
Come Back Darlin'
Cryin' Holy
Dig a Hole in the Meadow
Doin' My Time
Don't Let Your Deal Go Down
Down the Road
East Virginia Blues
Eight More Miles to Louisville
Foggy Mountain Top
Forty Years of Trouble
Get In Line Brother
Gonna Settle Down
Gotta Travel On
Ground Hog
Handsome Molly
Head Over Heels
Hot Corn, Cold Corn
How Mountain Girls Can Love
I Ain't Gonna Work Tomorrow
I Saw the Light
I'll Be Alright Tomorrow
I'll Fly Away
I'll Never Shed Another Tear
I'll Stay Around
Jesse James
John Hardy
John Henry
Keep on the Sunny Side
Little Cabin Home on the Hill
Little Girl in Tennessee
Little Maggie
Lonely River
Lonesome Road Blues
Love Please Come Home
Low and Lonely
Man of Constant Sorrow
Midnight Moonlight
Molly and Tenbrooks
Mountain Dew
My Cabin in Caroline
My Home's Across the Blue Ridge Mountains
My Little Georgia Rose
My Long Journey Home
My Walking Shoes
Nine Pound Hammer
Ninety-Nine Years and One Dark Day
No Mother or Dad
Nobody's Business
Old Home Place
On and On
On My Way Back to the Old Home
One Tear
Pain in My Heart
Pig in a Pen
Poor Ellen Smith
Poor Rebel Soldier
Pretty Polly
Red Rockin' Chair
Rocky Top
Roll in My Sweet Baby's Arms
Salty Dog
Saro Jane
She's More to be Pitied
Sittin' On Top of the World
Somehow Tonight
Song of The South
Sophronie
Steam Powered Aereo Plane
Sunny Side of the Mountain
Sweet Thing
Take Me in Your Lifeboat
The Old Home Town
Think of What You've Done
Thinking About You
Two Different Worlds
Unclouded Day
Unfaithful One
Used to Be
Wabash Cannonball
We'll Meet Again Sweetheart
Wear a Red Rose
When I Left East Virginia
White Freight Liner Blues
White House Blues
Why Don't You Tell Me So
Wild Bill Jones
Will the Circle be Unbroken
Will You be Loving Another Man
Worried Man Blues
Wreck of the Old 97
You are My Flower
You Can Have Her
You Don't Know My Mind
Your Love is Like a Flower