The Session eBook – Banjo Tab eBook & Play-Along MP3 Tracks
May 5th, 2012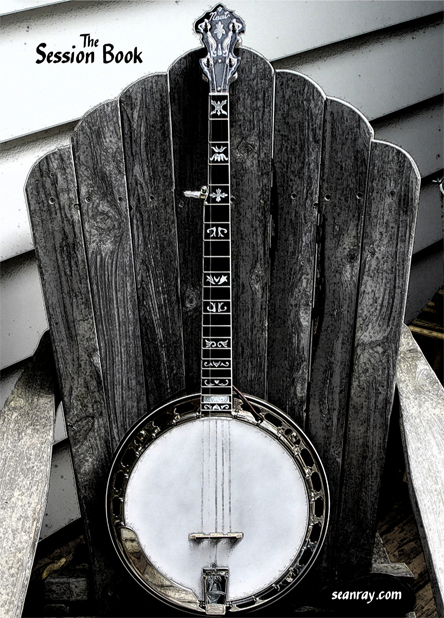 The Session eBook features 26 of the finest Scruggs-style banjo instrumentals ever played.
This Package includes 147 page PDF eBook/52 track MP3 download as well as 26 TablEdit files.
MP3 Play-Along files features full arrangements, played by real musicians. These are not your typical, generic MIDI, BIAB backing tracks.
The accompanying MP3 audio files include two versions of each song in the eBook. One with banjo to demonstrate the tab and one without the banjo so you can play-along with the band.
The tabs include a minimum of three solos per song  complete with intros and endings. The chords for the entire arrangement are shown in an easy to follow format that minimizes page flipping so the rest of the jam session can follow along as well.
These are complete, performance ready, arrangements based on classic recordings. The backing tracks range in speeds between 80-120 bpm so you can work on your timing confidently without struggling to keep up. As you get more comfortable with the songs you can use your playback software, such as Quicktime, to speed up the tracks to your desired tempo.
if you're new to the banjo then you can grow into this book or if you've been playing for a while then this is perfect for building up your repertoire.
Songs included: Blackjack, Bugle Call Rag, Clinch Mountain Backstep, Cripple Creek, Cumberland Gap, Dear Old Dixie, Earl's Breakdown, Farewell Blues, Fireball Mail, Five Speed, Flint Hill Special, Foggy Mountain Breakdown, Foggy Mountain Chimes, Foggy Mountain Special, Ground Speed, Home Sweet Home, John Hardy, John Henry, Lonesome Road Blues, Pike County Breakdown, Randy Lynn Rag, Reuben, Sally Ann, Sally Goodin, Shuckin' The Corn, Train 45.
Package includes eBook in PDF format (147 pages). Links to download the 52 MP3 files as well as all 26 songs in TablEdit format. Instantly delivered to your email upon order completion.
For sample page, play-along tracks and more details see below.
The Session eBook
(Digital Download – PDF, MP3 & TablEdit format)
Price: $45
In Stock
Details:
eBook: 147 page 5-string banjo tablature book with chord charts in PDF format. (Delivered via Email)
TablEdit (TEF) Files: 26 TablEdit files included. (Delivered via Email)
MP3 Download: 52 Tracks Total (26 with banjo/26 without banjo). Three hours of music. (Download via link)
Personnel:
Sean Ray – Banjo, Guitar, Bass
Brian Ray – Mandolin
Paul Kienitz – Violin
Special thanks to Brian Ray and Paul Kienitz for their invaluable contributions to this project. For more information about their various musical endeavors check out The Briar Pickers
Samples:

Lonesome Road Blues (No Banjo)
Foggy Mountain Special (No Banjo)
Farewell Blues (No Banjo)
Read reviews and discuss the book
Check out the January 2013 edition of Banjo Newsletter for a complete review of The Session Book